About
|
Theme: Colourful
|
Blogroll

Colourful


Here I am, enjoying the sun on my
colourful
Gizzy quilt
. Isn't it beautiful? I love the colours. And guess what? It has dragons on it! Dragons for Dragonheart. To see more Gizzy quilts, visit
Bizzy for Gizzy
. To get your own Gizzy quilt, visit
Millie's blog
.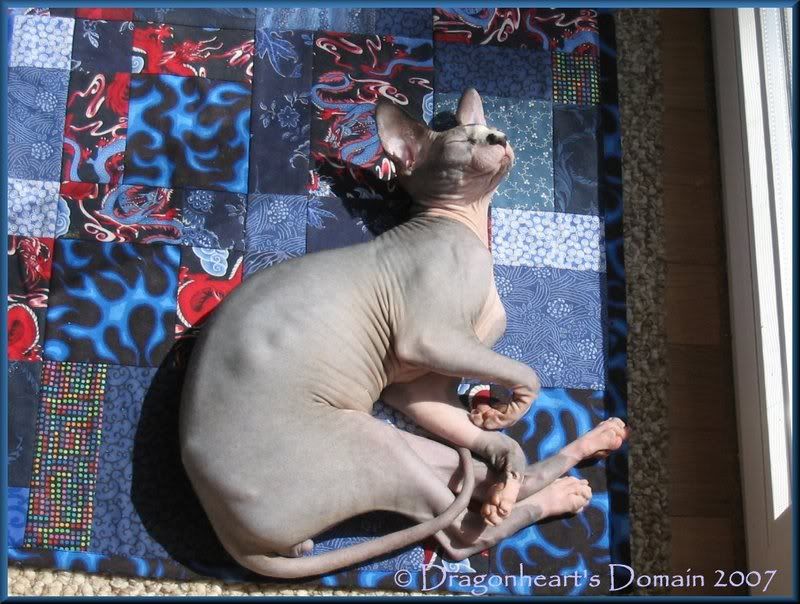 (Click either photo to view a larger image)
Yesterday, several of you asked about the heat here in Germany. Yesterday it went up to 31°C (88°F), 33°C (91°F) with the humidex. This is very unusual for Munich. No, we can't install any air conditioners - even the ones with hoses that go out the window won't work here because the windows here are very different than in North America. We do have all the blinds down to keep the sun out (the photos above were taken before this heat wave started), the windows open and our fans going. Unfortunately, I don't like the fans. I don't like the way the moving air feels across my skin. So I stay far away from the fans. We do have cold water with some ice in it in a bowl before and behind the fans, but we have a tiny little freezer and so can't make and store much ice. German fridges and freezers are very small - tiny compared to North American standards, since most Germans go to the market, bakery and butcher on a daily basis, it's just part of the culture and lifestyle here.
I don't have any fur, which is good, but remember, Sphynx have a fast metabolism so we produce a lot of heat, and our normal temperature is a little higher than that of other cats to keep us warm when it's cold out.
Fortunately, today should be the last day of this super hot and humid weather, and we should get back to seasonal temperatures (mid 20s Celcius) tomorrow.
Tags: