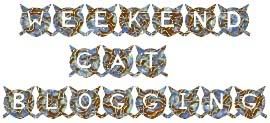 I am excited to be hosting Weekend Cat Blogging this week, especially since my first birthday is next Wednesday!
I have lots of catnip, feather-tailed mousies, and yummy salmon for everyone, so join in!
If you want to take part in
Weekend Cat Blogging
, here's how it works: Leave a link to your site here in the comments section, and a a short description of your post, if you'd like. Also, a link back to my blog, mentioning this weekend's Weekend Cat Blogging would be appreciated, but is not absolutely necessary.
I'm looking forward to reading all your posts!
Check out this week's Weekend Cat Blogging Round Up
! You can find
this week's WCB here
.