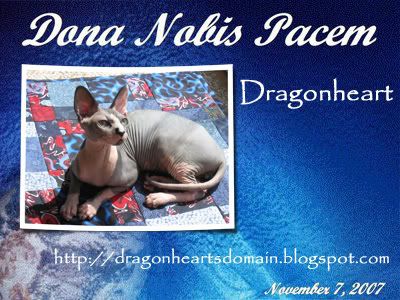 My human dad is an officer in the Canadian Forces. As such, he has participated in many different missions around the world, including serving in Kuwait during the first Gulf War, peacekeeping missions in Haiti, Bosnia, and Eritrea, and domestic operations such as the Winnipeg Floods in 1997. I am very proud of him and the work that he does, along with all the other members of the Canadian Forces, and all the other men and women who serve throughout the world.
Currently, Canada has a large number of men and women serving in Afghanistan. Although the news focuses on their engagements with the Taliban, they do a lot of good work for the local people, as they do wherever they are deployed. They build roads, bridges, docks, and sometimes schools and other buildings; they do demining operations, so it is safe for people to travel through roads and fields that previously held dangerous mines; they often provide medical care for the local people; they make and distribute toys for the local children; and they do many other wonderful, helpful things that you seldom read about in the newspapers or hear about on the news.
Even though I am very proud of my dad and all his does, I do wish that the conflicts throughout the world would end, and that all the men and women serving overseas could return to their families.
I pray daily for all the men and women who are deployed, and fervently hope that they come home safely to their families.
On November 11th, every year,at the 11th hour, Canadians pause in a silent moment of remembrance for the men and women who have served, and continue to serve our country during times of war, conflict and peace. We honour those who fought for Canada in the First World War (1914-1918), the Second World War (1939-1945), and the Korean War (1950-1953), as well as those who have served since then. More than 1,500,000 Canadians have served our country in this way, and more than 100,000 have died. They gave their lives and their futures so that we may live in peace.
Let there be peace.
To learn more about the Peace Globes and the Blog Blast for Peace,
visit Mimi
.
To learn more about Remembrance Day, visit
Veterans Affairs Canada
.
To learn how to support our Canadian Troops,
visit the Canadian Forces Personnel Support Agency
.