Here are my favourites:
Time of Day: 06:00 and 18:00, when I am fed my stinky goodness!
Day of the week: Saturday and Sunday, because both of my humans are home.
Season of the year: Summer - I love the heat and the sun.
Holiday: Christmas - I love playing with the wrapping paper and spending lots of time with my humans.
Beaches: I've never been to a beach.
Song: Only The Good Die Young by Billy Joel.
Flower: Roses, Tulips and Daisies.
Talk show: We don't watch talk shows in our house.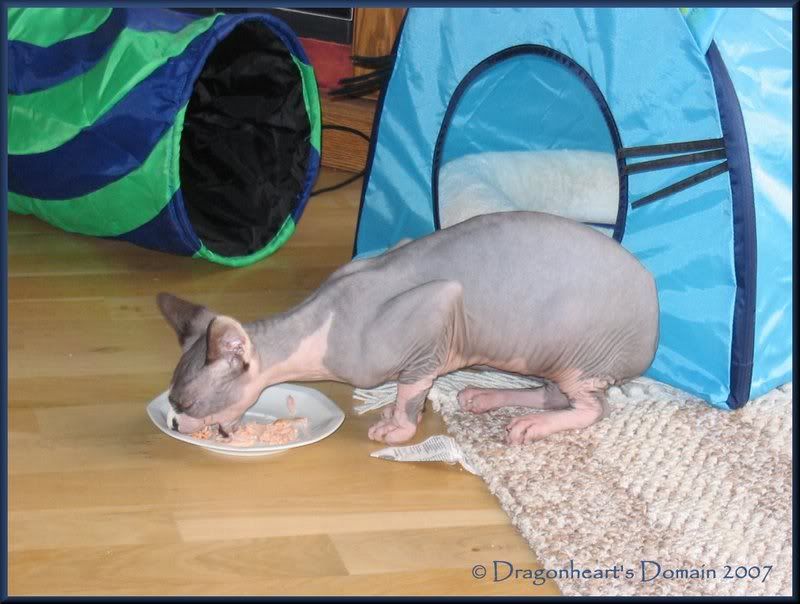 Movie: Anything my humans are watching.
Soaps: My favourite shampoo is the Oatmeal one that my humans use to bathe me.
Beverage: Milk in the bottom of my humans' cereal bowl.
Fruit: I've only ever had bananas, so I guess they are my favourite.
Snack: Feline Greenies Salmon Flavour.
Food: Real Salmon, cooked and deboned; Almo Nature Stinky Goodness (100% organic, hormone-free and antibiotic-free); Orijen and Almo Nature crunchies (also 100% organic and hormone-free and antibiotic-free).
Restaurant: I've never had restaurant food.
I tag any cat who hasn't been tagged!
Tags: