Yesterday, my Holiday Gizzy Quilt arrived! :)
Here's what the back of the quilt looks like, which Holiday Gizzy it is (number 6) and a 'nip ravioli!

Here I am sniffing the quilt and checking it out.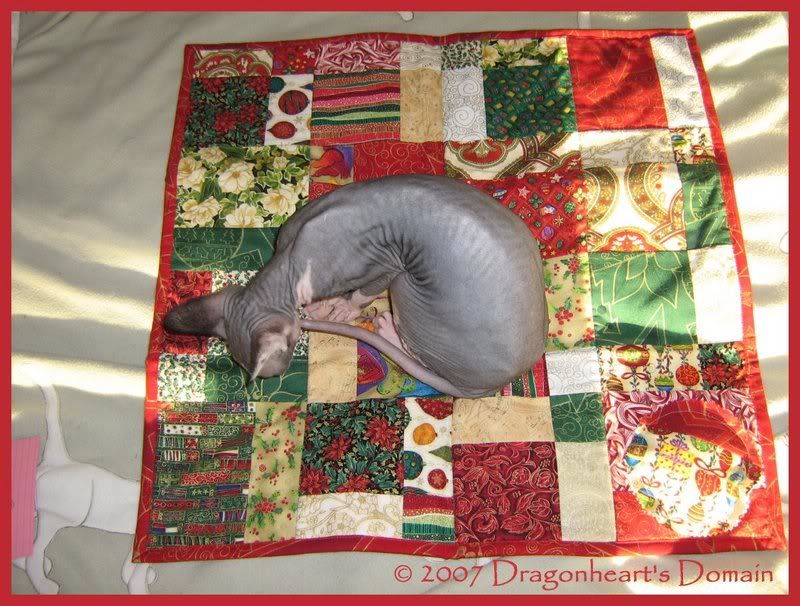 Here I am playing with the 'nip ravioli! The catnip in this is good stuff! I haven't been reacting at all to catnip recently, but the 'nip ravioli really had me going!

More fun with the 'Nip Ravioli!


And a final shot of me on my Holiday Gizzy, modelling. Isn't my quilt beautiful? I love it!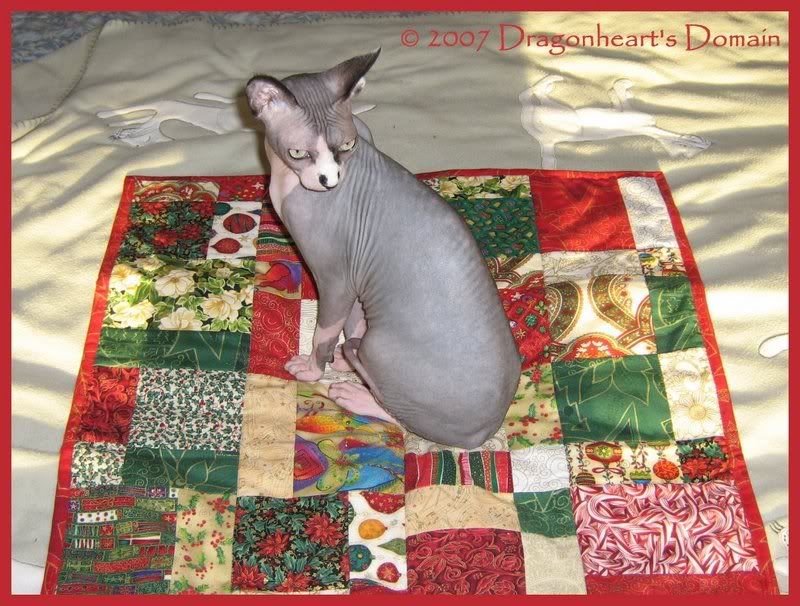 (Click any photo to view a larger version)
Now my quilt is being put away until the hoildays. The 'nip ravioli is staying out for me to play with though, until my order of Hallowe'en 'Nip Raviolis arrives.
The Holiday Gizzy Quilts were limited editions, so they are all gone, but, if you want to get your own Gizzy Quilt, check out
Bizzy for Gizzy
! You can see the gorgeous quilts there and learn how to get your own. The quilts are beautiful! You won't be disappointed!
If you would like a 'Nip Ravioli, visit
The House of the Mostly Black Cats
. These 'Nip Ravioli are great toys! As I said, I haven't reacted much to catnip recently, but the 'Nip Ravioli really had me going! There is some very potent catnip in there!
Update on me: I am happy to see that the shot the vet gave me and the pills I've been taking seem to be working! I am behaving normally - I had a great play session last night, ate some stinky goodness last night and again this morning, and had another great play session this morning! My trips to the litterbox yesterday and this morning were normal, except for being a little soft and very stinky.
The results weren't back from the lab yet, so we are still waiting on them, but I seem to be doing much, much better! My mom is thinking my problem might be with my anal sacs, since I've been scooting my bum across the bed and bath mat, and since she has smelled some pretty nasty scents coming from me a couple of times when I'm curled in her lap, that don't smell quite the same as when I pass wind. I will be going back to the vet in a couple of days when all my pills are done (or sooner, if the lab work turns up anything), so we'll see what the vet thinks then if all the lab work is negative.
So thank you all again for your good thoughts, purrs and prayers! My humans and I really, really appreciate them. You are all such wonderful friends!