So yesterday I had to go back to the vet, for a follow-up, to see how I was doing with my new food.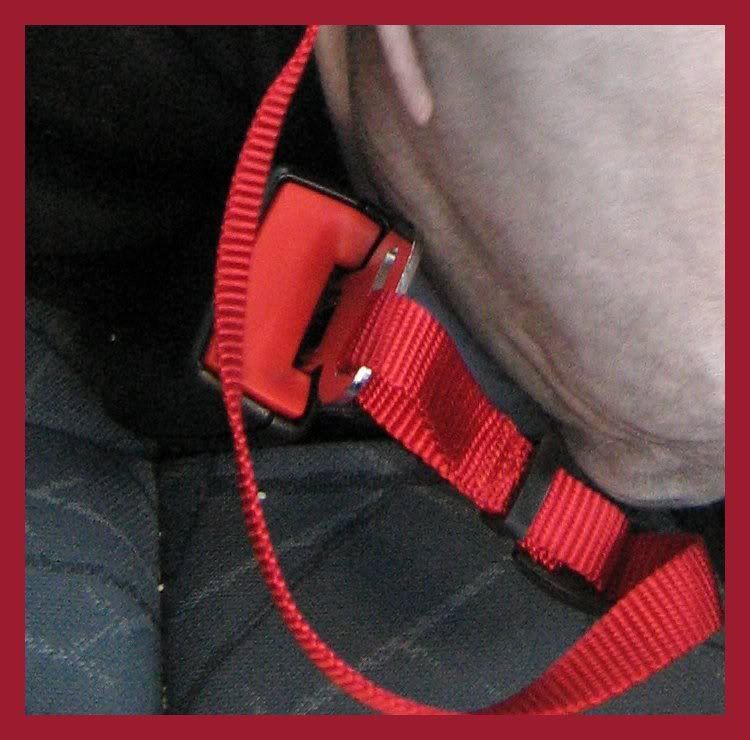 Instead of having to travel in my PTU (Prisoner Transport Unit, ie. cat carrier), my mom bought me a new safety harness, designed for travel in the car. It is designed especially for cats. It has a short lead, and a clip on the end of the lead that buckles in to the seatbelt buckle in the car. You can see that buckle in the photo to the right.
I liked this much better than travelling in my PTU. I was able to sit comfortably in the backseat, with my mom next to me, and look out the window and sniff the air. Yet I was safely restrained, and my lead/leash was short enough to keep me safe in the backseat, so I wouldn't disturb my dad while he was driving.
I quite enjoyed the car trip. I was fascinated by all the interesting scents and various noises that I heard all around me.
When we arrived at the vet's, my mom carried me in her arms, still in my harness. My dad had my PTU ready, if I fussed. But I was a good boy, and was quiet in my mom's arms. While we were walking from the car in the parking lot to the vet's office, we received some interesting looks, and one lady asked what I was. She seemed quite intrigued by the thought of a cat without fur!
In the vet's office, there were a couple of tiny woofies there, that were no bigger than me! I think they were Chihauhaus. There was another kitty in a basket, and a very nice lady with another small woofie. This last lady was quite taken by me! She said I was very cute, and asked all about me and my breed. She said she had never seen a hairless cat before, but that I looked very sweet! My humans were speaking German to her, but it is clear that they are not native German speakers, so she asked if they were American. Of course, they replied that they were Canadian. Below you can see a photo of me waiting in the vet's waiting room. I was sitting quietly on my mom's lap.
Before long, I was called in to the examining room. The vet asked how I was doing. My humans explained that since switching to the
Ente
(duck) food, I no longer had any blood in my stool, but that it was really, really soft. So soft that my mom could only scoop it out of my litterbox because of the litter crystals sticking to it. The photo below is of me on the vet's examination table.
Since my stool is still super-soft, the vet decided to try me on another new food, this one a prescription food designed especially for allergies. I will try this food for the next 11 days. If it doesn't work, then they'll have to run more tests. So I hope the new food works! It is stinky goodness, and it's the only food I'll be eating for the next little while. It's pâté style, while I normally don't like, but since there's no other food available, I'm eating it. And although I'm not fond of the pâté texture, it is yummy. If it helps my tummy and bathroom troubles, I can live with eating pâté style stinky goodness.
Thanks again for all your purrs and prayers, as well as your suggestions. I do take a pre- and pro-biotic, and my mom has been looking for plain pumpkin. She hasn't been able to find it in any of the local stores, though. Thank you again.
Catster's World's Coolest Cat Show is on! Please
take a look at my photos
, and if you like any of them,
please vote for me (Dragonheart) at The 3rd Annual World's Coolest Dog & Cat Show
. Thanks so much!