My dad ran the Munich Marathon yesterday. :) All the previous marathons that my mom and dad have run, they've run together. My mom is a very slow runner, but my dad loves running with her, so for the two other marathons that they've done, they've run together. This time, though, my dad ran the marathon by himself, to see how fast he could do it on his own. My mom was his support crew and cheerleader, and was there at the start, at the 19km mark, at the 29km mark, and at the end. (A marathon is 26.2 miles or 42.2 kilometres.) My mom had fresh Powerade and gels for my dad, and was cheering him on.
My dad's goal was to come in under 4 hours, and he made his goal! He finished in 3:51:54. So he was very happy!
To show how slow my mom is, by comparison, when my mom and dad ran the Hamburg marathon together in April, they finished in 5:51:11. My mom is just happy that she can run, though, since she has a lot of biomechanical problems. She is knock-kneed and splay-footed, and fractured the L2 vertebra in her back in 1993, when she fell off a horse while jumping.
Here's a photo of my dad at around 19 kilometres on the course. My mom took these photos. The official race photos should be available on Wednesday.
Here are two photos taken at the end of the course. The marathon finishes up in the stadium where the 1972 Olympics took place. The marathoners enter the stadium, do one lap on the track, and then cross the finish line. You probably can't read what my dad's shirt says on the back, but it says "CANADA".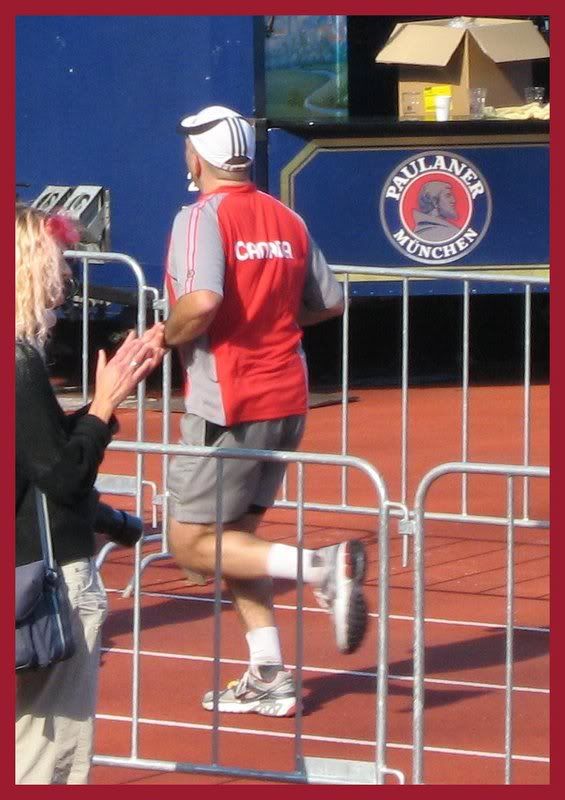 And, for comparison, here's a photo of my mom and dad running the Hamburg Marathon, back in April of this year: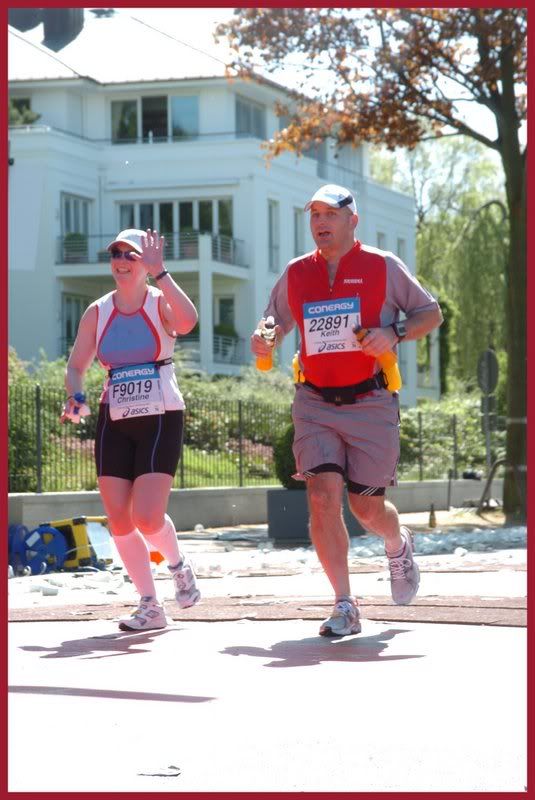 For Mancat Monday, here I am in my Hallowe'en costume. A Mancat isn't afraid to dress-up for Hallowe'en. Be sure to check out
Skeezix' Hallowe'en costume contest
and
leave your comments
there!
Update on me: Well, my yummy duck food seems to be working. I haven't had any blood on my bum or when I use the litterbox since last Wednesday morning (and Wednesday morning there was just a tiny bit of blood). However, my litterbox trips continue to be very, very soft. Warning: TMI coming up! My mom says the only reason she can scoop out my litterbox is because the crystals stick to the stool. Otherwise, it is so soft, it just falls right apart. I go back to the vet tonight for a follow-up, so we'll see if she has any suggestions, or if it's just a matter of waiting for my system to get used to the new food. Thanks again for your concern, your purrs and your prayers. You are all wonderful friends.