Dragonheart
&
Merlin
: This is a scrapbook page our mom made of the two of us snuggling together. This photo was taken on New Year's Day, before Dragonheart became ill.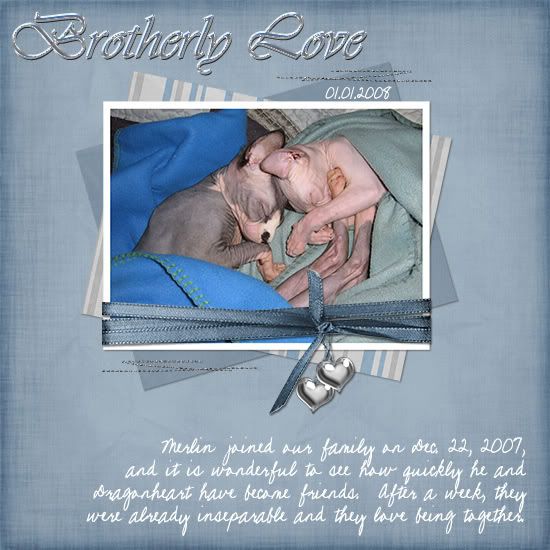 (Click to view a larger image. Credits for the scrapbook layout can be found here.)
Dragonheart
:
Update on me: Thank you everyone for your positive thoughts, your purrs and your prayers. We all greatly appreciate them. I am doing much better. My temperature is back to normal, I am eating, drinking, using the litterbox, running around, and playing a little bit. I am very happy to have the IV port out of my arm. It didn't bother me too much, but it was a little odd having it there. Every so often, I would try to shake it off. The vet had a bit of a challenge taking it off, since the tape adhered really well to my Sphynx skin! I am taking my antibiotics like a good boy. The two nice lady vets at the vet practice, the various veterinary technicians, and my humans have all taken very good care of me. The vet told us that with fevers as high as I had, things can go downhill very quickly, so they are all very happy that I improved so quickly and am doing so well. She thinks that I probably picked up an infection that Merlin brought with him, but that didn't affect him. Whatever it was, I'm just glad I'm doing better. Thanks again for all your good thoughts, prayers and purrs.