Dragonheart
:
Thanks again to everyone for their good wishes, prayers and purrs. They've worked, along with the great care I've received from my vets and my mom and dad! I am almost back to normal - I'm just a little less active than I normally am. Merlin and I are playing and sleeping together again, which makes us both very happy. The crazy little fellow started throwing himself against the door to the kitten nursery when he was in there alone! (He was fine if one of our humans was in there with him.) Kittens! They are crazy!
Our humans are also having problems feeding us our separate foods. Merlin needs kitten food because he is still growing, and I need to eat my prescription vishus deer food because of my food allergies, and it's no good for kittens. Once Merlin is grown, we'll both eat my food, but for now, we need to eat separate foods. The problem is, even though I wake my dad up for breakfast, and he goes downstairs and feeds me, and then puts Merlin in the kitten nursery and feeds him, neither of us eats! We stand on either side of the door to the kitten nursery, meowing, and if Merlin is alone in there, he throws himself against the door! My mom has been frantically searching for a vishus deer (venison) food that kittens can eat as well, but although she's found some North American brands, she hasn't been able to find any that are available in Germany. Merlin goes to the vet tomorrow for his booster shots, so she's going to ask her what she recommends.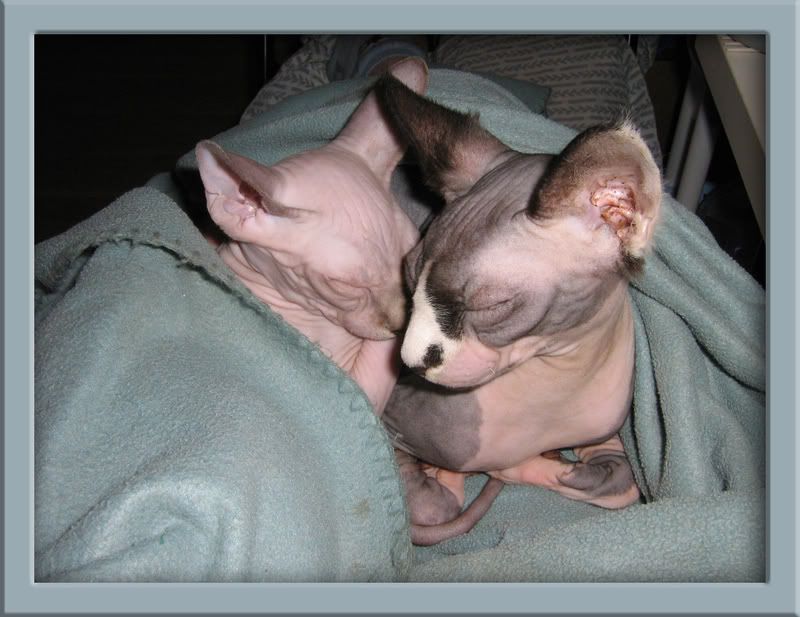 Merlin
:
I am very happy to have my big brother back to play and to sleep with! He's a lot of fun, although he is obsessed with cleaning my ears,
as shown here
. I guess they must taste really good or something! As seen in the photos above, we both fit on our mom's lap, although it is a tight fit, and she's says we get heavy after a while. Dragonheart's the heavy one, though. He weighs 3.65 kilos (about 8 lbs). I hardly weigh anything at all! Anyhow, we both like to share either mom or dad's lap, curled up next to each other on either one of them.