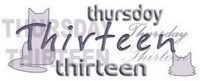 Since it was our mom's birthday yesterday, today's Thursday Thirteen is a list of things we love about her.
Even though we don't enjoy it, she makes sure we stay healthy by cleaning our ears, bathing us, keeping our claws trimmed, and taking care of everything else we need.


She makes sure we always have fresh, clean water.


She gives us treats, especially after she cleans my ears and eyes, or trims my claws.


She plays fun games with us, like the Whirlybird, and buys us cool toys.


She's wonderful to cuddle with.


Her lap is comfortable and warm to curl up in, and she even has arranged her desk so that she can study or work on the computer and still have us in her lap.


She's cozy to sleep next to at night.


She acts as our photographer and secretary, and helps us to visit all our friends' blogs.


She gives us lots of love and attention, and as Sphynx, we demand a LOT of attention.


We love her and she loves us!